In the conservative whisky auction field, it is rare to see dramatic changes that are more noticeable than auctioning record prices. But a recent auction at Edinburgh's Bonhams auction house may indicate that some major changes are taking place in the auction space.
At the auction held on June 5, more than 350 bottles of whisky worth more than $300,000 were unattended. These unsold whiskies accounted for 40% of the lot. For an auction house like Bonhams, this is an unprecedented failure.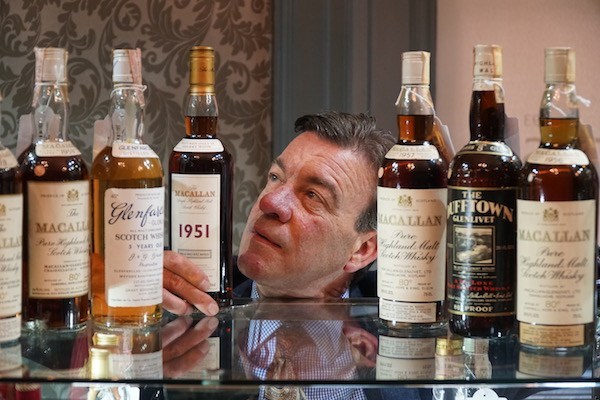 With more and more whiskies being auctioned every year and the turnover rate is above 90%, Bonhams' auction rate is only 62%: only 240 of the 387 auction items are sold.
These include:
Rare Laphroaig and Macallan Collection
Two giant private whiskey series
Six bottles of wine recovered from the wreckage of the cargo ship S.S.Politician (S.S. Politician sank on the island of Eriskay in Scotland in 1941 and later became the inspiration for the book WhiskeyGalore.)
Bonhams' auction for the last time the turnover rate exceeded 90% was in October 2018, and the subsequent auction sales were 74% and 75%, respectively.
In contrast to this low auction rate, the most recent auction of the scotch whisky auctions: 6,386 auctions, with a turnover rate of over 97%.
Bonhams did have some good results at the June sale, and although there were no auction records, some of the lots were sold at very good prices:
Bowmore, with 40 years of age in 1955, sold an amazing $19,000 (£15,000) high price;
With a 52-year-old Macallan Select Reserve collection from 1946, it has a very competitive price of $14,000 (£11,000);
An attractive bottle of 1929 Matthew Gloag & Sons Glen Grant sold for $2,000 (£1,600).
It is worth noting that the 50th Anniversary Joint Edition of Suntory Rolling Stones has achieved a very good publicity effect in this auction, which has paved the way for pre-sales and improved collectors through a large number of repeated reports. Expectations for this version are expected to go to $44,500 (£35,000).
However, things are not always satisfactory. At this auction, Bonhams sold only 28,000 US dollars (22,000 pounds) of auctions, which is about 3 points lower than the auction price of 48,400 US dollars (HK$380,000) in Hong Kong's Bonhams auction last August. one.
According to auctioneers, at the auction held on June 5, the total value of unsold whisky batches was $260,000-317,000, which meant that Bonhams missed a potential buyer's commission of $85,000.
The spirits that bypass the high commission include:
90 bottles of Glenfarclas worth $45,000 to $53,000
34 bottles of Macallan worth $50,000 to $60,000
10 bottles of Glenlivet worth $13,600-$16,600
9 bottles of Bowmore worth $9,600-12,500
34 bottles worth $30,000 to $35,000 from the winery Springbank
52 bottles worth $7,800-9,300 from Bruichladdich
At the same time, the hopes of consigning the consignors from the six bottles of whiskey that S.S.Politician had recovered were also shattered, as five of the six bottles worth $38,100 to $50,800 were not sold.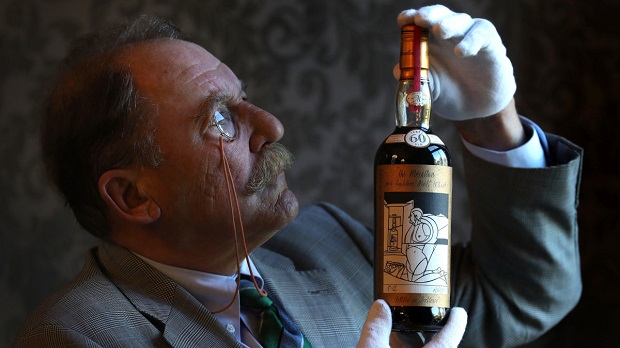 What went wrong?
It is true that few auction houses are able to sell 100% of the lot, but not more than one-third of the unsold is indeed a very embarrassing proportion, and it is necessary to conduct a more in-depth review.
Moreover, when the bidder transmits the information of a series of auctions in the on-site auction, the auctioneer may lose more auction space; as the continuous price falls, the sales momentum will be interrupted, and people will be on the auction. Confidence will gradually fade away.
So what went wrong? Should whisky collectors, buyers and sellers worry about the same situation in future auctions?
In fact, in this auction of Bonhams, it was not caused by one factor, but by a number of reasons led to this poor performance.
First, although the Brexit led to a weaker pound, some pre-sale valuations still look high, especially for OB.
For example, Lot 336 is a Macallan Private Eye with an estimated value of $4,830 to $5,080 (£3,800 to £4,000). However, ScotchWhisky Auctions sold the same bottle of whisky for $4,470 (£3,400) last month.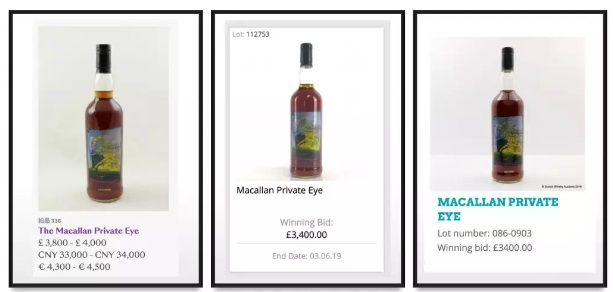 In addition, the total auction price also includes the buyer's commission, and this commission is used to differ between auction houses.
Online auction houses generally charge buyers a lower commission. Scotch whisky auctions typically charge a 10% commission, while Bonhams charges 27.5%.
If a traditional auction house wants to compete with online auctioneers and does not want to lower the commission rate, it will have to lower the valuation of each lot to match the overall price, or simply choose to trust the customer's loyalty to the lot and ignore the commission rate. .
Second, some of the lots are simply not able to attract the attention of some of Bonhams' sellers.
Some batches have been bottled several times, for example 12 bottles of Bruichladdich's stoneware bottles, which may appeal to commercial buyers who represent whisky shops and bars, but are less attractive to individual collectors.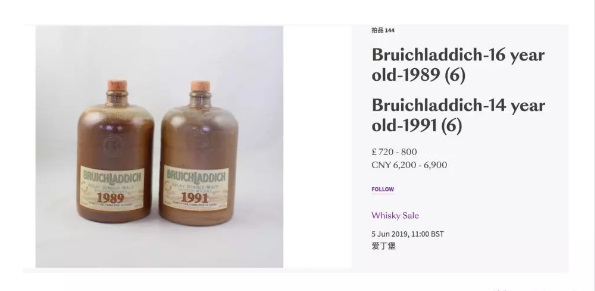 Some of the items, such as the various bottlings of the early 20th century, sold quite well. But some of the tedious individual bottles, such as Port Ellen and Caol Ila, have failed to provoke collectors' desire to buy.
Finally, the traditional form of auction also has an impact on offline auctions.
Bidders around the world have become accustomed to the convenience of online bidding for 24 hours, while enjoying the direct delivery of the items. Offline auctions require collectors to promise and pay more to ensure the safety of the lot. On the line, collectors can make any promises on the auction without having to make any promises on the auction. They can easily find anything they want on the auction.
Martin Green, a whisky expert at Bonhams in Edinburgh, commented on the auction. "Infrequently, auction sales cannot be carried out as planned, and this sale does not meet expectations. However, this does not mean that A foregone conclusion.
In fact, our previous sales in Edinburgh and Hong Kong have been very strong – and there are indications that the market is still strong. "
The poor auction of Bonhams does not indicate that the traditional auction house is fully challenged, but whisky lovers can wait and see if there will be a new model in the future.